ACFE MERCHANDISE
Dual Ballpoint Stylus Pen
Dual Ballpoint Stylus Pen
Description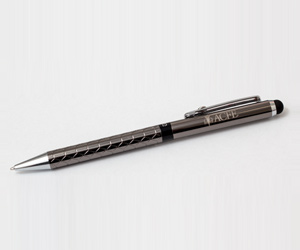 Quickly move from paper to touchscreen with this stylish pen. The Dual Ballpoint Stylus Pen features a ballpoint pen on one end for writing. On the other end it features a stylus tip ideal for touch screens, such as iPhones and iPads or any other touch screen device.
Color: Midnight Chrome
Ink Color: Black
Materials: Brass
Ordering and Returns
Satisfaction Guarantee
If you are not 100% satisfied with any ACFE product, you may return it to us, provided it is in excellent condition, for a full refund of the item minus the cost of shipping. Toolkits and bundles may only be returned as a complete set.
Ordering & Returns Policy