ACFE MERCHANDISE
Tech Padfolio
Description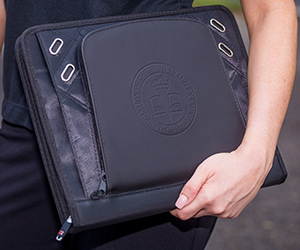 The Tech Padfolio features a zippered front-access pocket with business card holders and elastic media organizers. Inside you'll find a Techtrap elastic interior that holds up to a 10" tablet or general storage.
Additional Features Include:
Debossed ACFE Seal
4 USB flash drive holders
2 business card holders
Elastic pen loop
Gusseted document pocket
8.5" x 11" writing pad
Ordering and Returns
Satisfaction Guarantee
If you are not 100% satisfied with any ACFE product, you may return it to us, provided it is in excellent condition, for a full refund of the item minus the cost of shipping. Toolkits and bundles may only be returned as a complete set.
Ordering & Returns Policy